BR 100 PRO Features
The device supports working with 3 actual detection systems (magneto scan – ionic search system – long-range detection system) and all these systems have been developed and supported by all modern technologies that enable the device to be a complete and integrated scientific detection method for all prospecting and exploration operations.
Specialized for the detection of gold, treasures, minerals and underground voids.
The high speed in locating the surrounding targets and verifying them with an accuracy of up to 99%, through the 3 actual detection systems in the device.
The device supports 6 international languages: English – French – German – Spanish – Arabic – Turkish.
The new BRF signal filtering system to filter the transmitting and receiving signals and avoiding any interference near the exploration site and focusing only on the real targets surrounding the place.
The advantage of comprehensive discrimination between the detected metals / knowledge of the depths of the detected targets.
This device is supported by B.U.M . automatic detection technology.
GLY GUIDANCE LASER TECHNOLOGY.
This device is equipped with the new Power max 55 sensor, which is small in size and effective in detect targets quickly with a high response speed.
This system is equipped with a new sensor Power max pm 25, small in size and effective in detect targets from long distances with fast reception of the detected signal.
AGC (New Technology) / An Invention of BR Systems.
The device supports 6 international languages: English – French – German – Spanish – Arabic – Turkish.
Perfectly new and modern mechanical design and suitable size (all device systems in one standard size bag).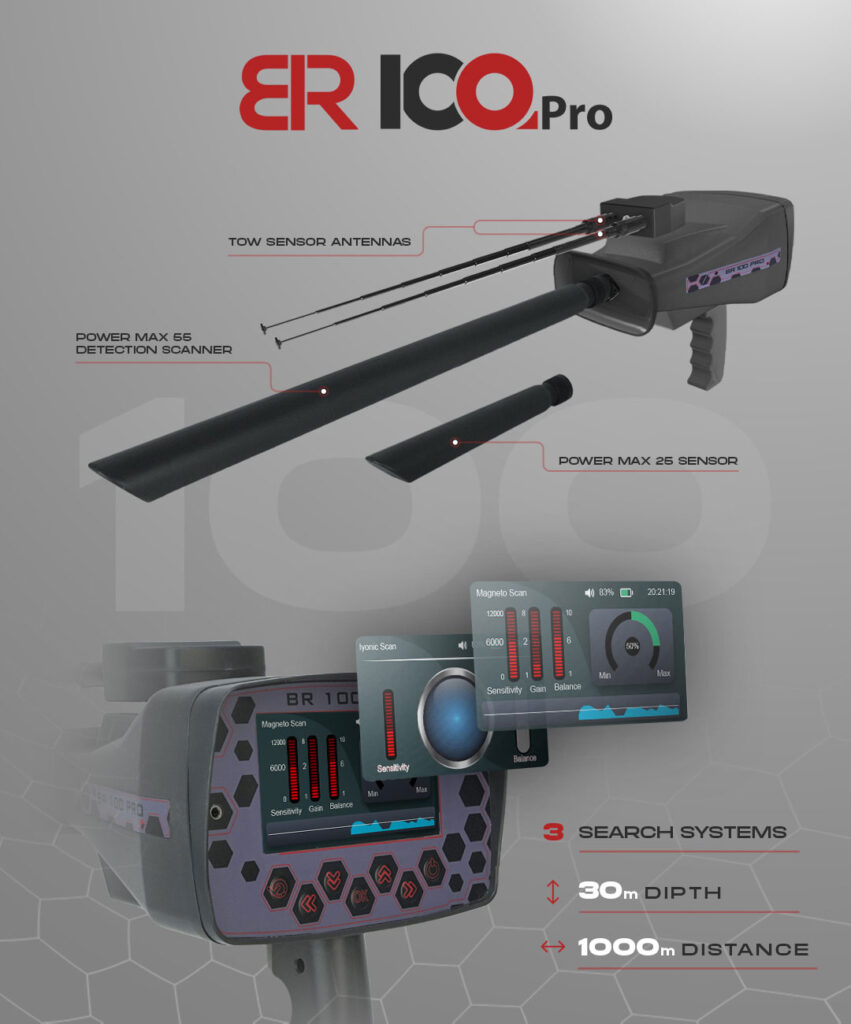 Ease of handling the device / The method of working and using this device has been prepared in line with the majority of prospectors.
The device is provided with modern and smart interfaces and drivers with the ability to save settings. And showing the necessary alerts when needed, in addition to the electronic guidance support that appears in the form of messages on the device screen.
The device was provided with a modern, high-definition color screen that is suitable for all day and night operating times.
Standard time for charging and use This product supports quick charge / 3.5 hours charge / 20 hours use.
The device supports vibration mode / device screen brightness control / device sounds level control.
The device screen supports the time clock and can be set based on the region + showing the percentage of the battery and the charging signal.
A smart and easy-to-handle control panel that contains the keys and buttons of the device.
A hard plastic bag that is anti-dust and backed by reinforced sponge to keep the device.
Systems And Technical Specifications