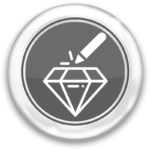 Diamonds and Gems Detectors
Diamonds & Gems Detectors, these devices were the main factor in exploring many types of gemstones around the world in Africa, Tanzania, the Sultanate of Oman and many other countries, this type of detectors works in sensing a gemstones through the atomic frequency of each chemical, our company has chosen for you the best and latest of these devices.
GF 1000 (33 Elements Detectors )The first of its kind and the most recent in the world to detect mineral wealth, precious stones and mineral rarities in the ground, this device works on advanced detection techniques to detect and searching for 33 different elements in the ground of gold, diamonds and metallic ores, This device has been greatly developed and equipped with detection systems beyond imagination, and conducted many experiments and tests in Africa, Latin America and the Middle East, and achieved impressive successes and was a major reason for extracting tons of precious metals and rare gemstones, this device detects targets at a depth of 200 meters underground, and senses targets from a distance of up to 2500 meters.
Diamond & Gems Detector" GF-500 device works on the long distance sensing system (LDS), the advanced and built-in with acoustic identification systems to locate the path and point center of target. The GF-500 offers the high rigor frequency waves that enable it to identify and detection the target location underground, like a diamonds and gemstones meticulously where the device can locate the targets from 200 meters distance and an angle of 360 degrees with precise control feature at a horizontal distance search, where there are a several levels of search distance, the user can adjust according to their needs to the horizontal scan, the search depth in the GF-500 device can be reach until 10m underground with the possibility of precise control in search depth, All that through the device control interface, device is characterized by its small size and ease of use, where it can be placed in the pocket and move it all the goodwill and easily, and anyone can use it without having to experience or large knowledge about detectors.
Diamond and Gems in your hands by owning the Electra device. There are many Diamond and gems types underground, in the same time there are amateurs prospectors and interested traders in diamonds by all types and gems as well, but they are lacking the advanced scientific tool to guide them to these treasures' locations. By owning Electra , the most advanced technology in the world of detection and prospecting of valuables, you will be easily able to mine diamonds and gems ores, as well locating and identifying its positions, where the device features the ability to detect and receive targets for an up to 2850 meters distance. Note: All AJAX products are provided with Two Years Warranty.